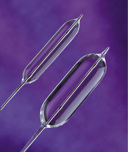 Since 1982, NuMED has been developing, manufacturing and delivering innovative cardiovascular products
NuMED provides physicians with the highest quality devices for diagnosing and treating congenital heart disease or compromised peripheral arteries. With the help of our distributors worldwide, NuMED has improved the lives of patients around the world by their defect-free product line in a rapid response time.
NuMED's commitment to meet the customer's expectation by creating better products and providing better services will continue to improve with their ongoing quality process. That is why NuMED will continue to lead the world of pediatrics.