Microsurgery and hand surgery Instruments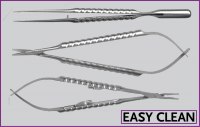 EASY CLEAN Unique design from Heinz Waldrich!
Easy clean suggests that the instruments are easy to clean.
The easy-grip handles have no sharp edges or holes where dirt and stains may occur. This saves time and effort when cleaning the instruments.
TITAN LINE Titanium instruments are anti-magnetic and very lightweight. Ideal for eg suturing when you do not want the needle to be attracted to or repelled from the instrument. The instruments are colored blue for easy identification. Many of them are available in easy clean design.
MI-COBRA-box is an open box that is completely smooth with no sharp edges and corners, which minimizes the risk of suture sticking and cut. Also gives a better view of the instrument tips.